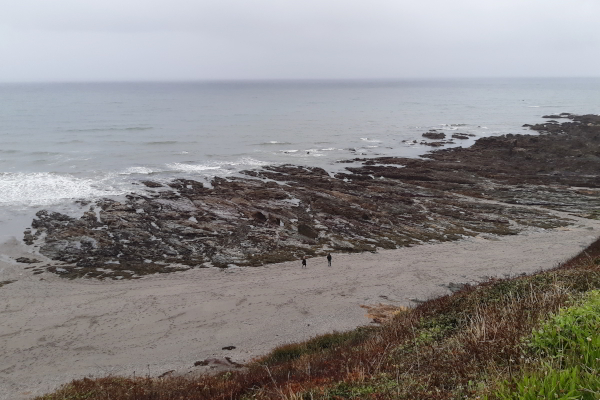 Going to a new beach is always exciting, even if the weather is forecast to be less than ideal. This trip to Portwrinkle and Finnygook beach was intended more as a research trip. The car park looked to be small so probably not a good bet for summer holidays. We had to decide whether there was enough of interest to justify a return trip.
Getting to Portwrinkle
We regularly visit Whitsand Bay so although Dad had not been to Portwrinkle before it was easy enough to find. The turning down to the left in Crafthole is not signposted from the Torpoint direction. Having gone past it slowly we saw the sign and were able to turn and go down to the nearly empty car park. Drizzle can be very useful.
Whitsand Bay Tide times
| | Time | Height |
| --- | --- | --- |
| Low tide | 01:30 | 1.0m |
| High tide | 07:25 | 5.2m |
| Low tide | 13:46 | 1.1m |
| High tide | 19:34 | 5.5m |
Plymouth Weather forecast
| | Temperature (Celsius) and rain | Wind |
| --- | --- | --- |
| 08:00 - 12:00 | 16°, 1.0mm | 5 m/s from SW |
| 12:00 - 18:00 | 17°, 1.4mm | 7 m/s from SW |
| 18:00 - 23:59 | 17° | 4 m/s from W |
Portwrinkle, Finnygook beach, rockpool discoveries
We were hoping to find some new creatures, with high hopes for a Stalked jellyfish, but in the end we mostly found species that we have seen before. This trip however was more about getting better photos, so we didn't worry too much about not finding anything new.
Five-bearded rockling
When lifting up some seaweed, you would usually expect some shrimps to shoot out. This time however was a little different, there was a little bearded rockling that swam out. It took us a few tries to catch it but in the end we got it to swim into our net with a bit of teamwork. Dad then put it in a white sample tray and took some close up shots with his new macro lens.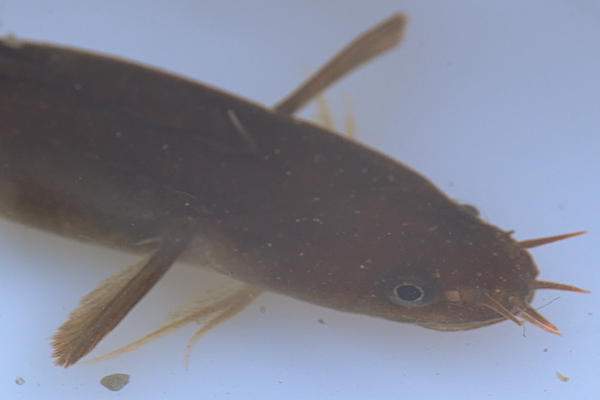 Shanny
Dad had lifted a rock and there was a shanny splashing about. Dad then called me over so he could put it in my net to take a picture with his phone. I love the colours on this one.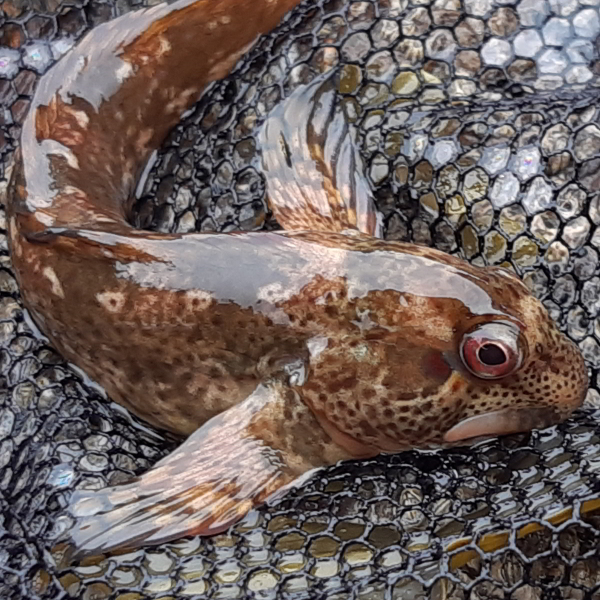 Worm pipefish
Although pipefish are hard to spot amongst seaweed, we saw one today in a rockpool. They are sometimes hard to catch because they can easily wriggle out of your hand. At other times they go rigid, as if pretending to be a piece of seaweed stem, and become easy to handle. We left this one in its pool as it was clear against the sandy bottom.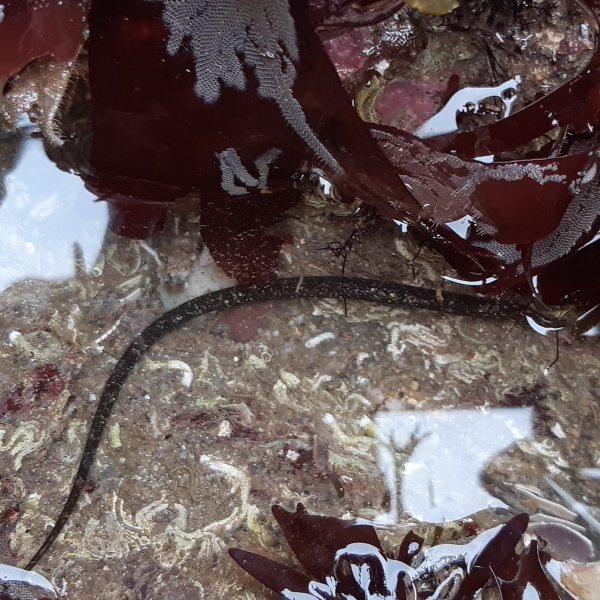 Cushion star
Something that we normally find at every beach is a cushion star so its no surprise that we found several here.
Super rock
In another gully Dad then lifted another rock, not much different from the others looking from the top … but so interesting underneath.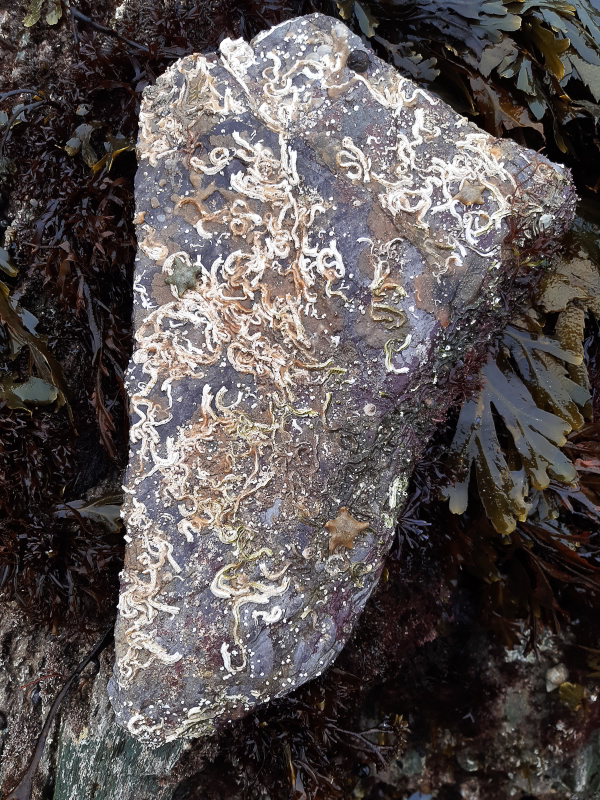 If you look closely you will see, amongst other things:
3 cushion stars
4 brittlestars
a netted dog whelk
and what for us is a new species of barnacle
(Enlargements below)
Brittle stars
These are sometimes hard to spot but you will sometimes find them crawling underneath rocks. These two have very different colouring but we think they are both Common brittlestars.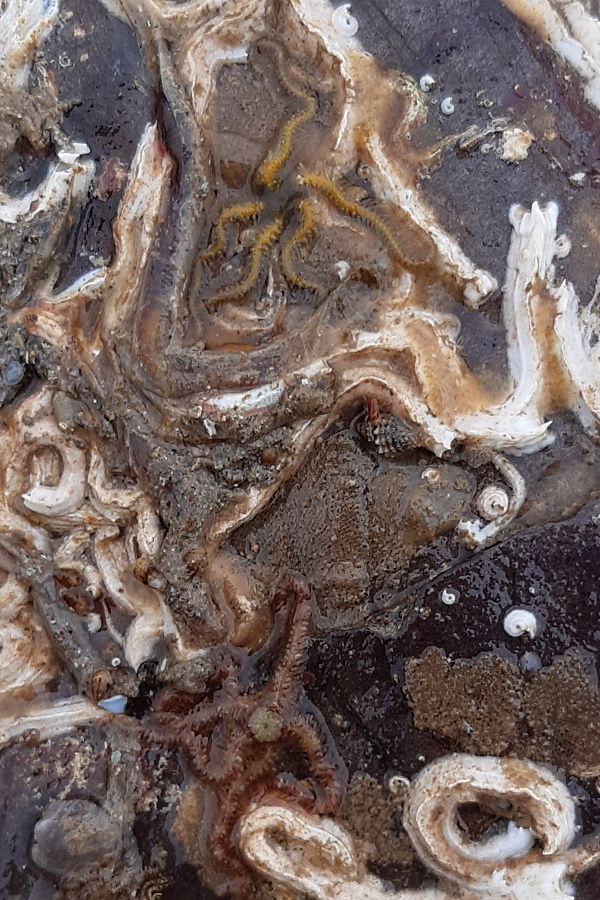 A new barnacle
Dad found a new barnacle under a rock and it looks like a volcano, we are doing some research to find out what it could be.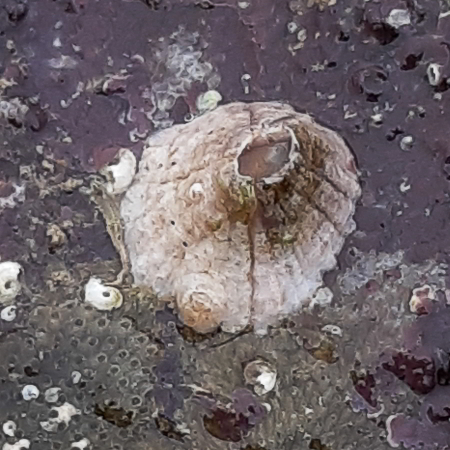 We think this might be an acorn barnacle, specifically (Perforatus perforatus). That is based on the obvious reference to its shape as being like a volcano.
Spotted Cowrie
We had found a spotted cowrie on our last trip to Wiggle Cliff at the other end of Whitsand Bay but it wasn't a good photo. This trip we had the right equipment to get a better picture. They are tiny though, this one being less than 1cm long.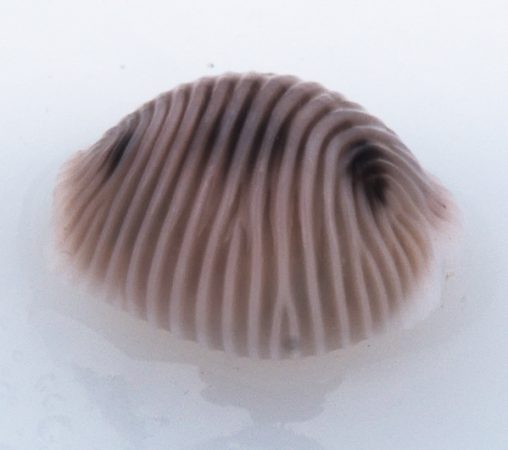 A new seaweed
I have seen this before but I don't know what it is. We are doing research to try and find out what it is.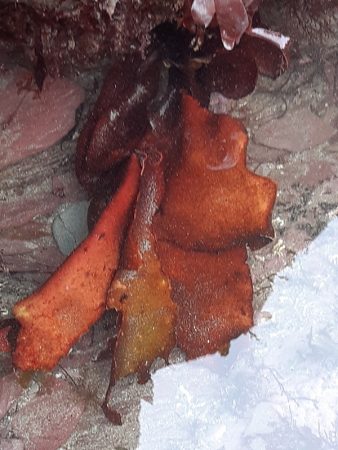 After a bit of searching we found this field guide for seaweeds: http://www.nmbaqcs.org/media/1185/ea-seaweed-reference-manual.pdf
This, and other pictures, seem to indicate Red rags (Dilsea carnosa). I will submit an iRecord and see if that gets confirmed.
Conclusion
Portwrinkle and Finnygook beach will be worth a return trip. We only explored about a quarter of the reef, and the tide was not the best ever, so we could probably find more interesting species on a lower one. It also looks like a good place to do some snorkelling.
The key to a return trip would be to pick a quiet weekend or one where some mist or drizzle will keep other visitors away.