My whole family had to go into a precautionary isolation for the period of the Rockpool Project October survey window so this was our first chance to return to Polhawn One and see how it compares in the cold Autumn weather. We were expecting a couple of others to tag along but they dropped out when they saw that the weather forecast was for wet and windy.
A low tide, bad winds
Unfortunately the tide was not as low as in September, even with a similar chart reading. The wind was blowing strongly onshore meaning that the water level was higher and also the waves made access onto the outermost rocks too dangerous.
| | Time | Height |
| --- | --- | --- |
| Low tide | | |
| High tide | 05.24 | 5.7m |
| Low tide | 11:42 | 0.8m |
| High tide | 17:44 | 5.8m |
Sunny with heavy showers, or heavy rain with sunny breaks
The forecast looked wet and wild and that much was true. We figured the wind direction was more southerly than forecast and there was definitely hail mixed in with the last shower that caught us just before getting back to the car.
| | Temperature (Celsius) and rain | Wind |
| --- | --- | --- |
| 06:00 - 12:00 | 10°, 3.2mm | 9 m/s from WSW |
| 12:00 - 18:00 | 9°, 3.0mm | 11 m/s from SW |
| 18:00 - 23:59 | 8°, 0.2mm | 7 m/s from W |
The 45-minute Crustacean Survey
Polhawn One, 15 Oct 2020
Dad wanted to get better photos of sand fleas because the ones we got last time weren't good enough for species identification. He had to rush to get the picture below as we could see a squall heading towards us. In fact, these were the only pictures with his proper camera all day. I am not able to identify the species here but hopefully the picture is good enough for someone to identify in the comments below.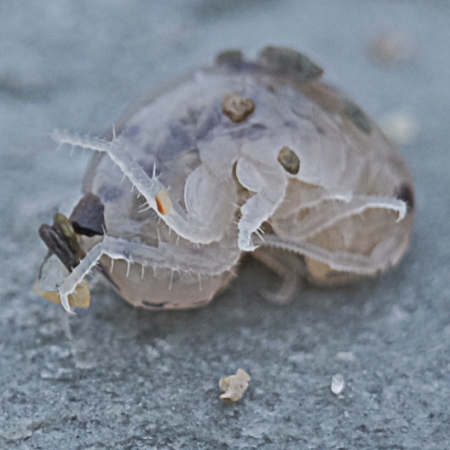 Next, dad went off to find some barnacles to add to the crustacean species for the survey. We had found a mix of barnacles but we are waiting for the identification to be confirmed.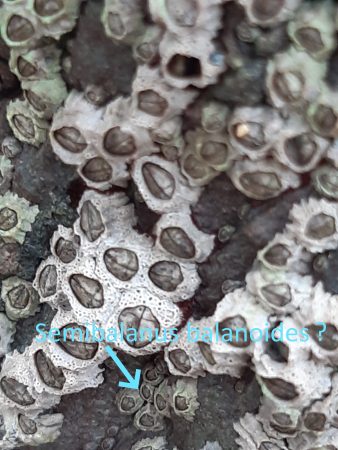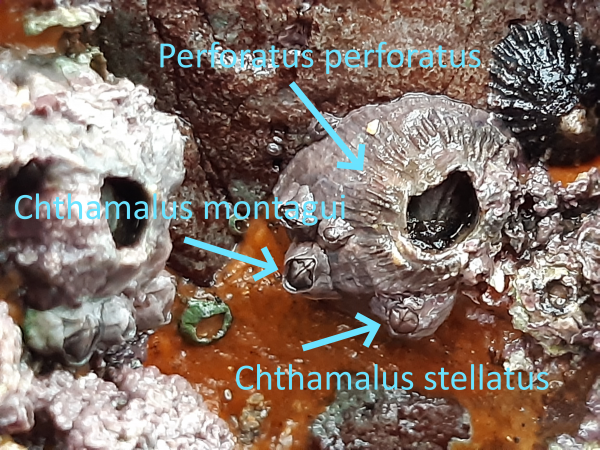 The reef here, at a lower level than the main rock, seemed to be inundated with sand since our last visit. This made finding anything difficult. We saw several edible or brown crans (Cancer pagurus) but little else. The rain came in heavy at times meaning I spent quite a bit of time sheltering behind rocks.
With only the one species of crab and only 5 minutes to go we were getting desperate. As it was starting to rain once again, dad called me over as he had found a nice rock not buried in sand and lifted it. Under this one we found a shore crab scuttling away . There was also a weird plastic object (the cap off something) that contained a broad-clawed porcelain crab and a Montagu's crab. 3 more species to add to the tally.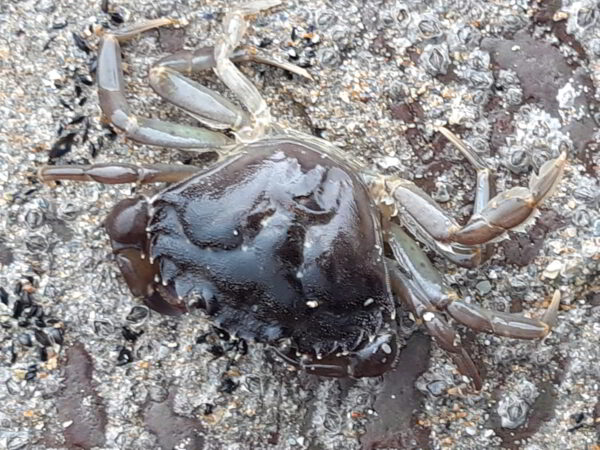 Other discoveries
Dad put this picture on Facebook group so people could identify it. I don't know much about sponges but guess I ought to learn a few more.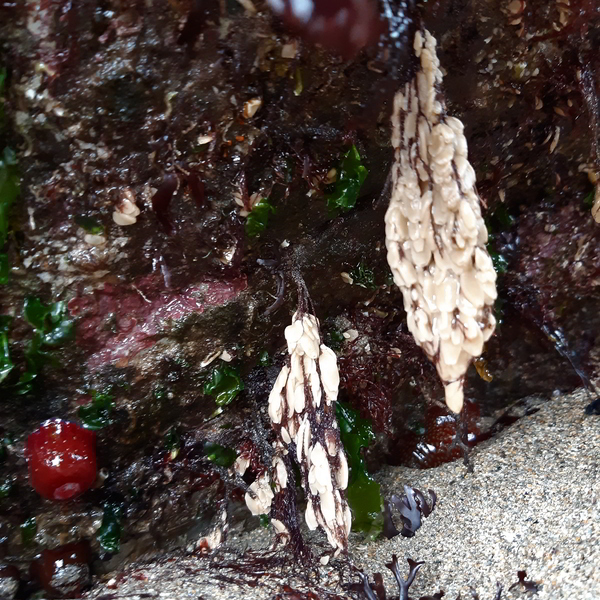 Polhawn one seems to have an abundance of dahlia anemones; they were everywhere.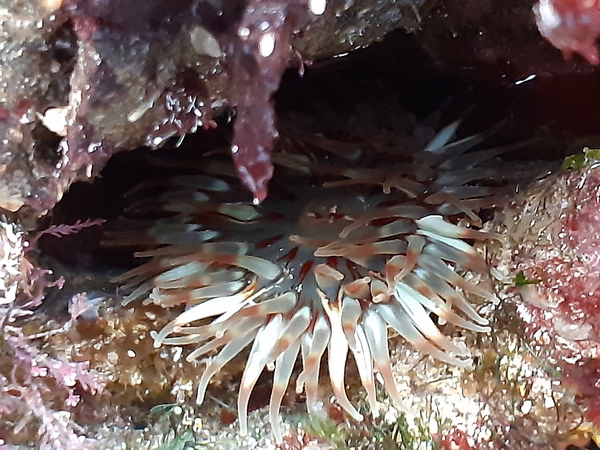 There were many patches of these dog whelk eggs. Some had already hatched. We think those are probably more Volcano barnacles looking very purple against the eggs.
I was interested in the gem anemone. I like the spots around it – just a pity it was so deep inside a crevice that we couldn't get a clear picture with the phone.
I am not completely sure about the identification as this oyster is heavily eroded.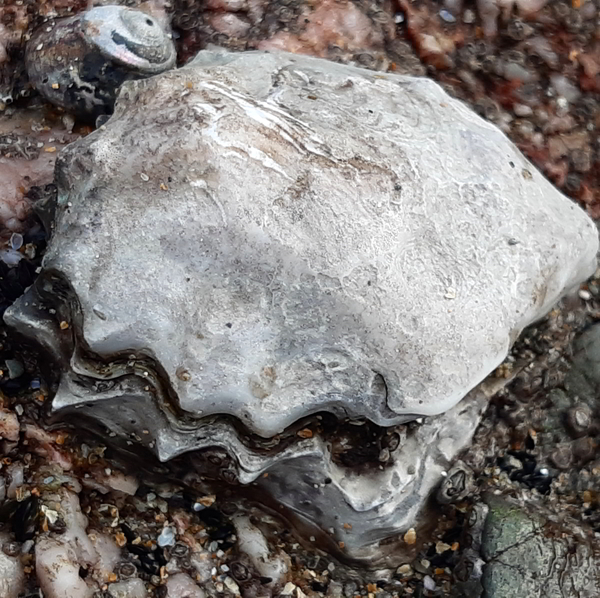 I then caught a small wrasse in my net. We can identify this as a corkwing by the small black dot near the caudal (tail) fin. This was the only fish this time compared to 4 species last time. That sand has really made a difference.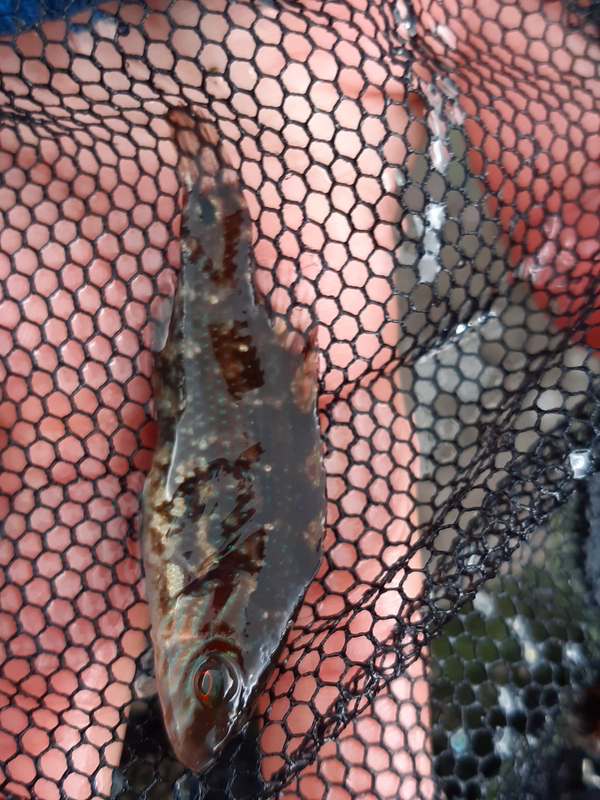 We got 2 reports back from the Rockpool Project. One for the crustacean survey and one for the other species entered as a Bioblitz. This reminded us to include some of the more common species next time – such as Beadlet and Strawberry anemones which we see often as well as various sea snails. Let's hope the weather is more kind.