On Saturday (19 September) we were booked in for my first 45-minute Crustacean Survey with The Rockpool Project. I have already written about my interest in Decapods and this seemed like a great way to take that to the next stage. It turned out to be better than expected.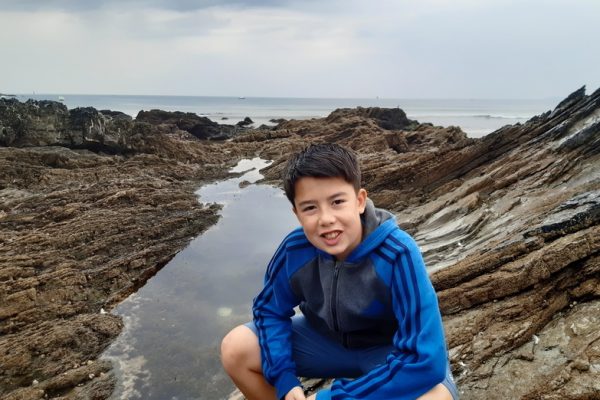 Excellent tide
| | Time | Height |
| --- | --- | --- |
| Low tide | 01:52 | 0.6m |
| High tide | 07:59 | 5.6m |
| Low tide | 14:11 | 0.7m |
| High tide | 20:14 | 5.8m |
Compared to our last visit the tide was huge. Apparently the difference was to do with the air pressure and the wind – both of which were working with us this time rather than against us. When we went back to Wiggle Cliff at the end our favourite gully was dry whereas Dad was chest deep last time, with waves coming in from both ends. More than the 20cm that the tide tables state anyway.
OK weather
| | Temperature (Celsius) and rain | Wind |
| --- | --- | --- |
| 08:00 - 12:00 | 16°, 10.4mm | 7 m/s from ENE |
| 12:00 - 18:00 | 17°, 1.9mm | m/s from NE |
| 18:00 - 23:59 | 20° | m/s from ENE |
It rained a bit before the survey which made it difficult for Dad to use his proper camera but then stayed dry.
The 45-minute Crustacean Survey
The Rockpool Project
Our survey finds
We were doing a 45 minute survey at Polhawn One. As soon as we finished our lunch, we started our survey at the high-water point on the highest rock. Dad went off to photograph a patch of barnacles whilst I dipped my net in pools. That soon paid off.
Here's a picture I took with dad's phone of a large common prawn that I was finding in pretty much every pool. I was very happy with the clarity of this picture, it really makes the prawn stand out. The important thing is that you can see the rostral horn (or tooth or crest) which is important for identification.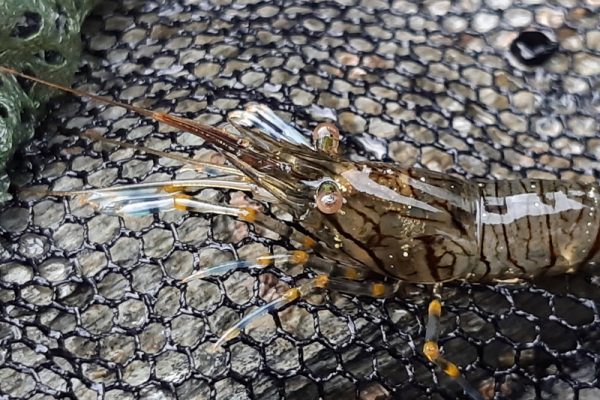 We were not finding many crabs at the start of the survey but as we got lower down the shore-line dad found a rockpool which had some flat rocks in it. Under those rocks was where all the crabs were at, there was a hairy crab, our first ever long clawed porcelain crab and a montagu's crab (which we thought was a Risso's crab but apparently the rear legs are not hairy enough). We had found velvet swimming crabs and brown crabs but have not included their photos here as they are very common. We did see one shore crab before the survey started but none during.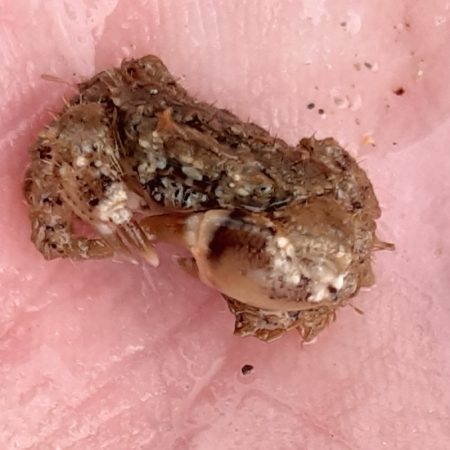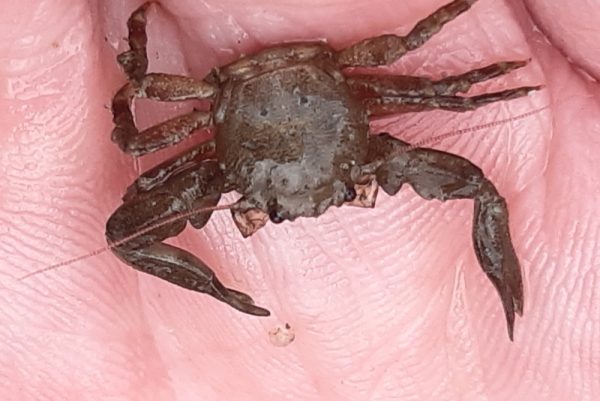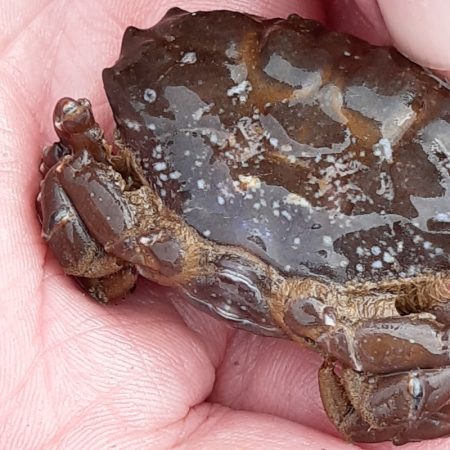 While I had wandered off to find some rarer species, dad had watched The Rockpool Project's video about barnacle identification and he was determined to take good pictures of them to help our species count. Since they are so small you really need a close-up or macro lens.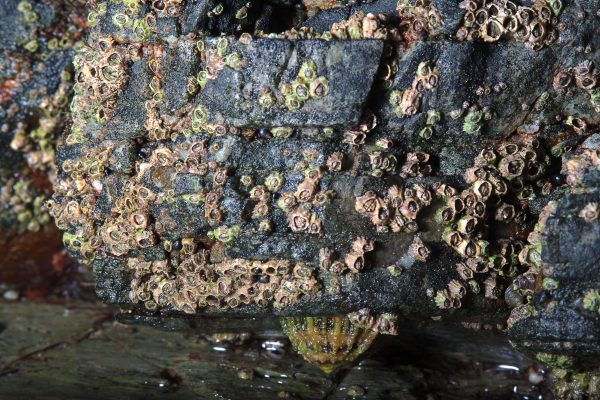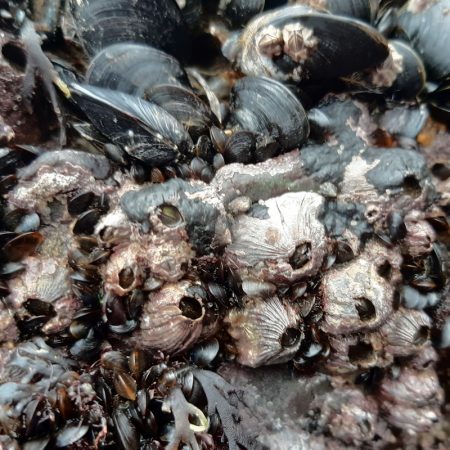 Submitting the results
It was easy enough to log in and submit our results to The Rockpool Project website. We used a compression program (RIOT Optimizer) to reduce the file size of our pictures before submitting and this meant they loaded really quickly. I then went through each species and entered our species identification, loaction etc. That was very similar to submitting an iRecord so not too scary.
A report comes back
What I really didn't expect was for an email report to come back a couple of days later. This was 7 pages long when printed and was very detailed. See extracts below:
The header comes back with whichever cover photo you submit and some basic details.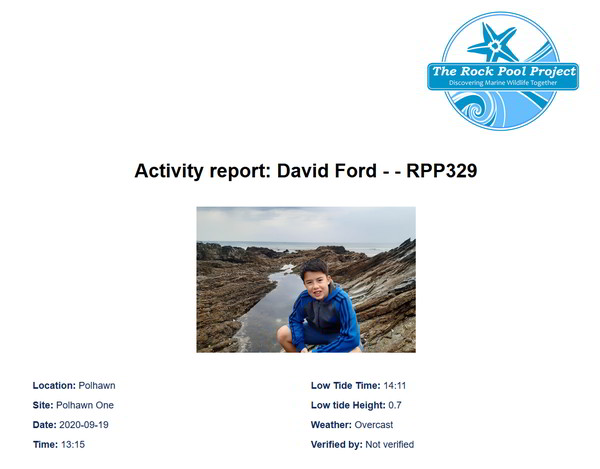 Then comes a list of confirmed species. I din't realise we were the first to survey at Polhawn One … but lots of firsts.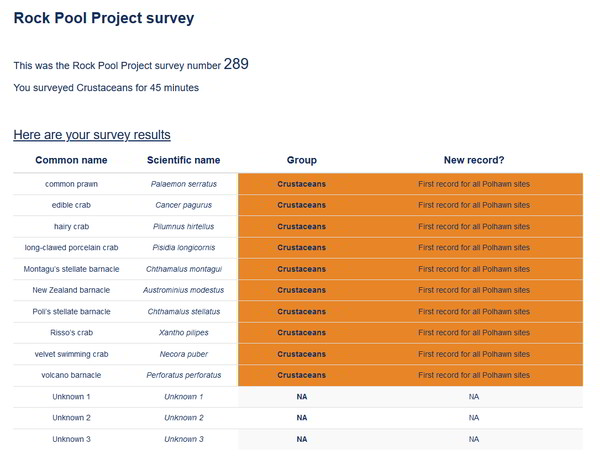 The unknown species were sandhoppers where we couldn't get very good photos.
I didn't realise that there would also be lots of information about what others were finding. Obviously we were after Crustaceans this time -but we have been told to submit the other species under a general Bioblitz heading. It is harder to get things done now we are back at school but I will get around to this over the winter.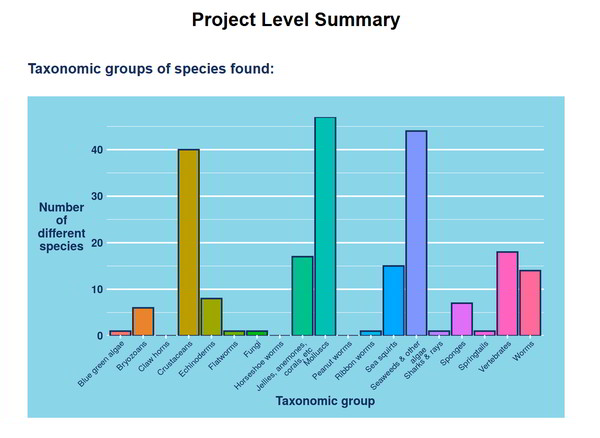 Did I enjoy the Crustacean Survey?
We both really enjoyed the crustacean survey. If submitting iRecords has given me focus for rockpooling trips then discovering species with a time limit really pumps up the challenge. I was proud that we got so many species on our first survey though we did see on Facebook that others were getting up to 20 species. I am definitely keen to do more surveys. We might not get out so much over the winter – but hopefully next summer.
Polhawn One was a great site with plenty to see. It is not far from the Wiggle Cliff reefs that we have been visiting all this year but was quite different in terms of rock structure and therefore the pools available – perhaps why I caught so many fish. I really want to explore here again, though I would also like to set up some survey sites of our own. That would be a good thing to learn how to do.
My other discoveries
On arrival I pointed out a Celtic Sea Slug. Soon we were noticing them everywhere. Here is a close up with a strange green worm in the corner. We have not been able to identify that at all.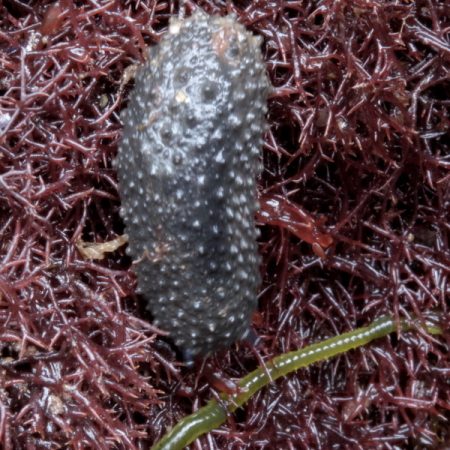 Today was my best day with catching fish because I found several new species. We made sure to get a photo with the black spot showing on the wrasse as the presence and position of this is important for identification.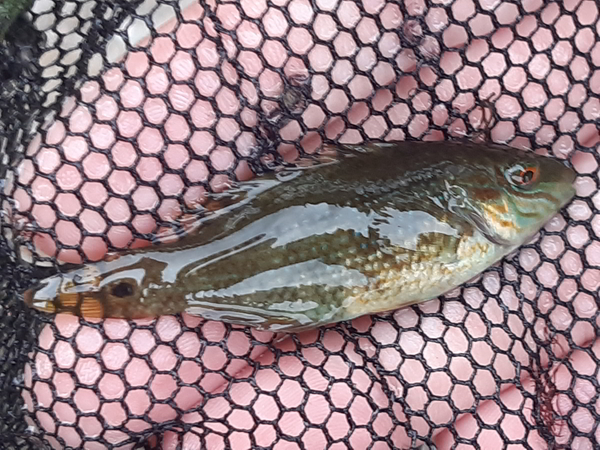 When I caught the ling, dad just looked at the colours and said pollack, until we were back at home and looked at it more closely. The tail shape and long dorsel fin were the main features we used for identification.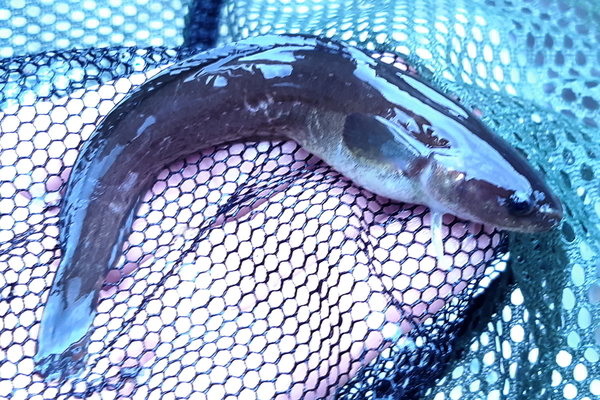 I caught 4 sea scorpions that day and was really surprised at how the spikes on the back are not poisonous given its name. We think this is the long-spined variety as they are, apparently, more common in rockpools.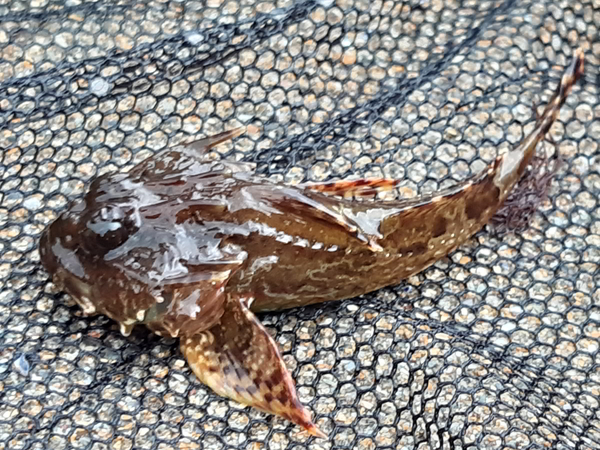 I am always proud when I find a gangly lancer as they are incredibly hard to spot among the seaweed. A pity they are not acceptable for a crustacean survey.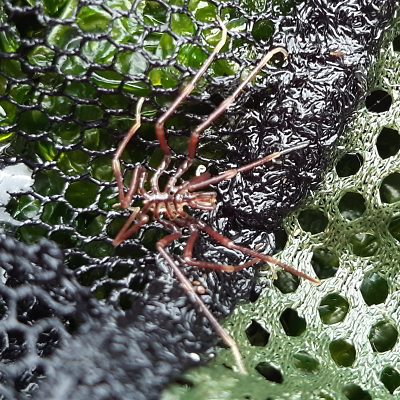 We thought this limpet looked a bit different. We are pretty sure it is a a new species for us.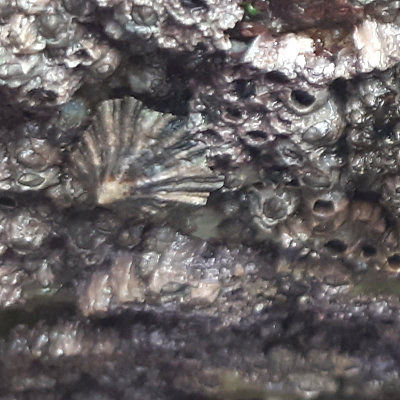 This anemone really stood out and dad's phone took a very clear picture.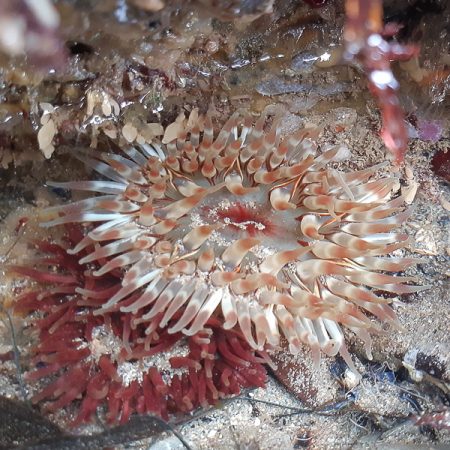 I found this strange seaweed holdfast. We identified it at home.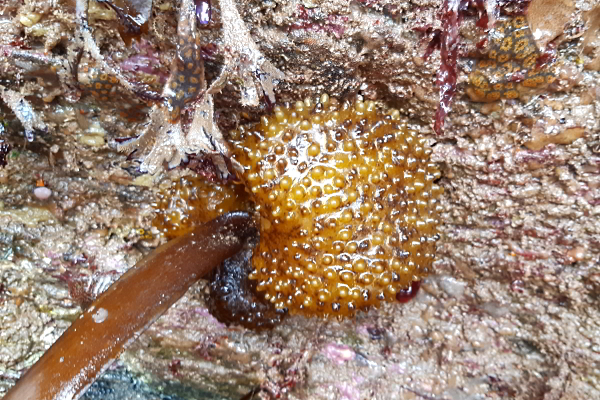 This picture of Star ascidian also came out really well.
This rockpool ceiling looks amazing even though I don't know half the species there. If anyone could identify them for me in the comments that would be highly appreciated.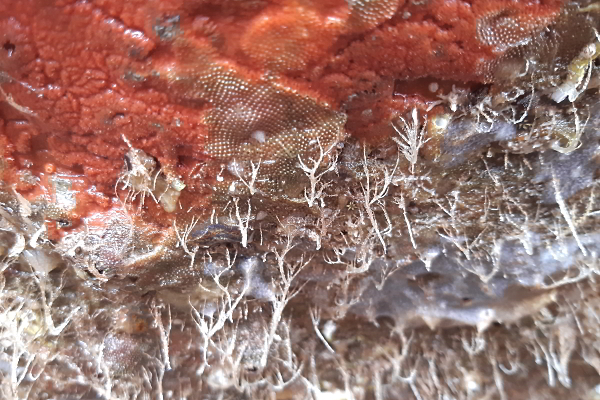 Update
We submitted these other finds on the Rockpool Project as a Bioblitz – which has no time limit, so all were valid. I was really excited to find that two of the species were FIRST EVER for the Rockpool Project. This was especially surprising as the Celtic Sea Slugs were everywhere.