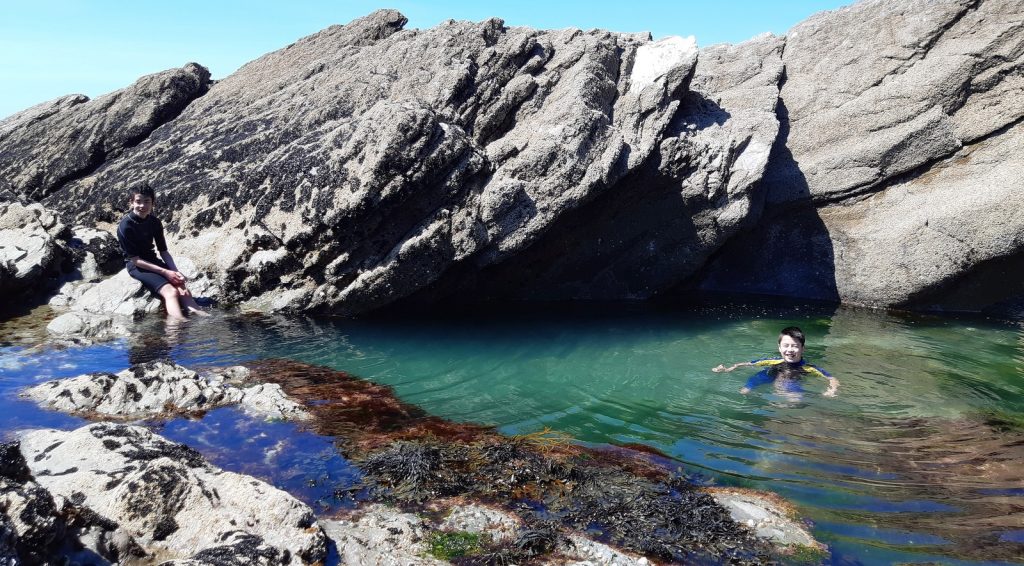 Purpose
This blog is my personal record of family visits to the coast, mainly of South Devon. In it I will list all of my rock-pool discoveries, especially the marine creatures that we have found, with a bit about how we identified them if they were special. Other posts will cover the learning I do at home in order to develop my skills.
Why rock-pool discoveries?
I was born in China, hundreds of miles from the coast and really only began to enjoy exploring rock-pools when we moved to Plymouth back in 2016. My first interest was in the small fish known in our family as 'Tommy sharks'. Now I am most interested in crabs, and I would love to find a lobster one day. Much of this blog will focus on the taxonomic Order Decapoda. This includes crabs and lobsters, as well as prawns.
We have been to many beaches between Torquay (where my uncle and his family live) and Whitsand Bay since. We also had one summer camping trip to the Scilly Isles which was fantastic as we saw many more species there. It was so good that I hope to go back one day (soon).
Beach trips never involve sun-bathing. We head straight out onto the rocks (reefs) and get in amongst the rock-pools, lifting any promising flat rocks to see what is underneath. We follow the Seashore Code and always return them to their original position.
Working towards a career
I am a Young Marine Biologist with the Marine Biology Association and am hoping to continue with that through university to a career. Since we live close, I have been to the National Aquarium in Plymouth 4 times. This includes a Sleeping with Sharks night with Cub Scouts.
I wrote a book review for Seashore Watcher by Maya Plass which was published in the Marine Biology magazine (page 38 October 2019 edition. See below). I plan on inluding reviews of other books on this site. These are more likely over the winter. Summer is too busy with trips to the coast.
Along with this blog I am beginning to record my findings with the Biological Records Centre. I have done a post on Submitting my first iRecord. Hopefully, doing this regularly will help me gain experience with species identification and Latin names.
The Rockpool Project: Biodiversity surveys
Today, 31 Aug 2020, I joined up for the Rockpool Project so that I can take part in their Biodiversity surveys. These are meant to be conducted during a tide window and we have just missed one, so it will be a few weeks before we can see how it goes.
The site Polhawn One looks to be our most accessible survey site. It is only a short walk from our regular reef at Wiggle Cliff. We could also probably carry out surveys at Kingsand Blue Pipe, Mountbatten South and Jennycliff South easily enough. We might even get to Prawle Point East and the two sites near Looe.