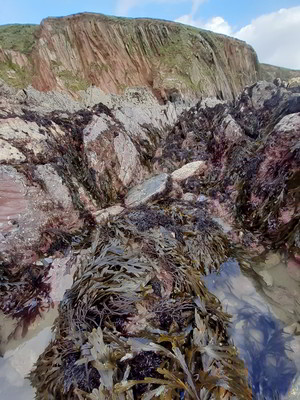 This was our first visit to Ayrmer Cove since getting it approved as a Rockpool Project survey site. The tide and weather looked ideal and so we set out early to give ourselves plenty of time to have a good search around. This was important as we intended to complete three surveys. We also knew that this would be the first surveys for the Rockpool Project and so everything we found would be a first.
On arrival we saw a helicopter hovering over Burgh Island. This then flew towards us and even stopped to check us out before continuing west. Later 3 police came along the high water mark and, as we were leaving members of the Dartmoor Mountain Rescue team arrived. At home we saw the story in the local paper; this being a search for a man who had gone missing from Burgh Island. Our thoughts with all those involved.
The forecast tide was good; the actual tide was excellent with far more of the reef exposed than we had seen on previous visits. This could have been helped by the forecast offshore wind.
| | Time | Height |
| --- | --- | --- |
| Low tide | 12:34 | 0.6m |
| High tide | 06:33 | 5.4m |
| Low tide | 12:55 | 0.4m |
| High tide | 18:55 | 5.2m |
The actual wind at ground level was a strong south-westerly making it feel colder than predicted. It was also a little choppy and Dad got one good leg soaking whilst checking out some deep holes right at the edge.
| | Temperature (Celsius) and rain (mm) | Wind |
| --- | --- | --- |
| 08:00 - 12:00 | 6°, 0.3 | 7 m/s from WNW |
| 12:00 - 18:00 | 9°, 1.0 | 7 m/s from WNW |
| 18:00 - 23:59 | 9°, 0.3 | 7 m/s from WNW |
Three surveys
We have streamlined our approach to these visits and now travel light so as to be able to move fast. I take a net, Dad takes a crab hook and his phone for its camera. We have a day-pack with some food and drink and a small first aid kit – but Dad's big pack with his digital camera and the tripod etc stay home now. 45 minutes does not allow for fancy photos and since all three surveys accept a phone image for identification, that's all we take. Only amphipods really need a better camera and macro lens. For this visit I am including all of the photos we used for submitting our finds.
Biodiversity survey
With the Rockpool Project there is no time limit on a Biodiversity survey so we were able to start taking photos as soon as we arrived on location. Everything would be new to the project and with less sand damage than at Polhawn One we started finding species straight away.
The one notable exception for the day was beadlet anenomes (Actinia equina). Although I did find one eventually, Dad was amazed not to find one anywhere even when looking for them specifically. There was an abundance of strawberry anenomes (Actinia fragacea) and a good few snakelocks anenomes (Anemonia viridis). Beadlet anenomes, usually the most common, were generally absent.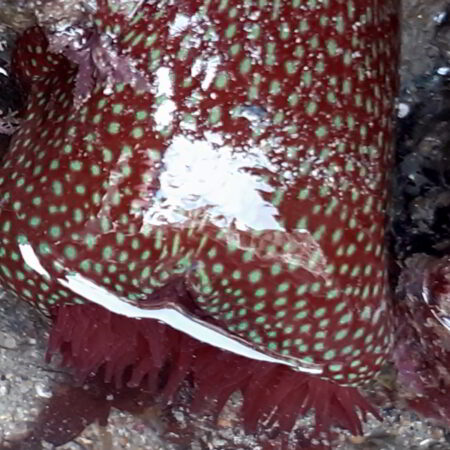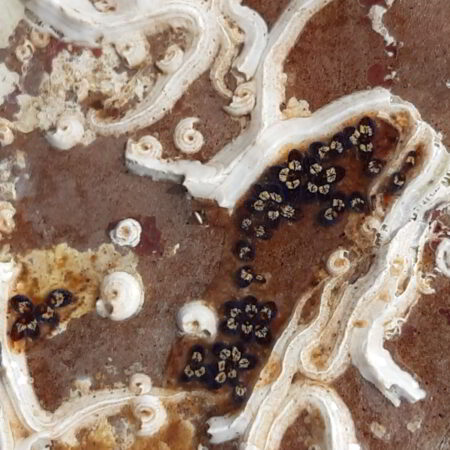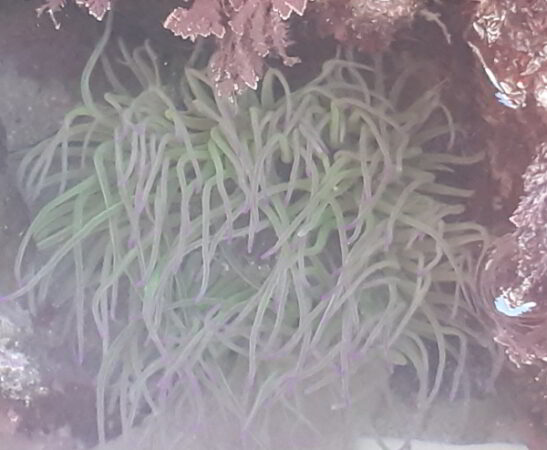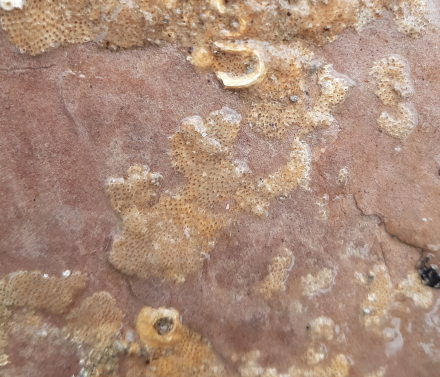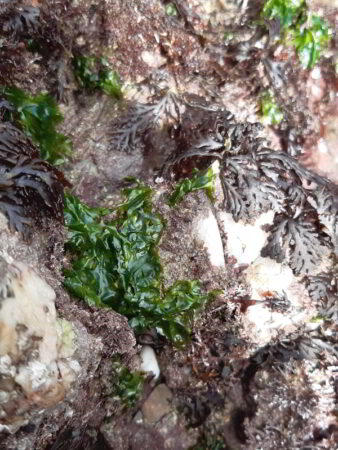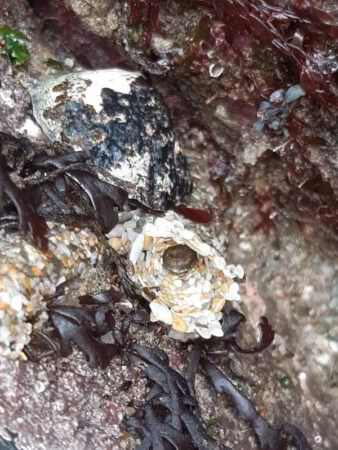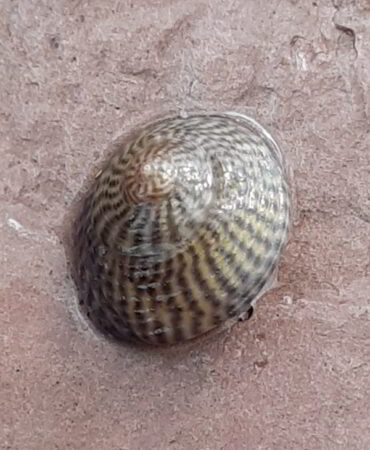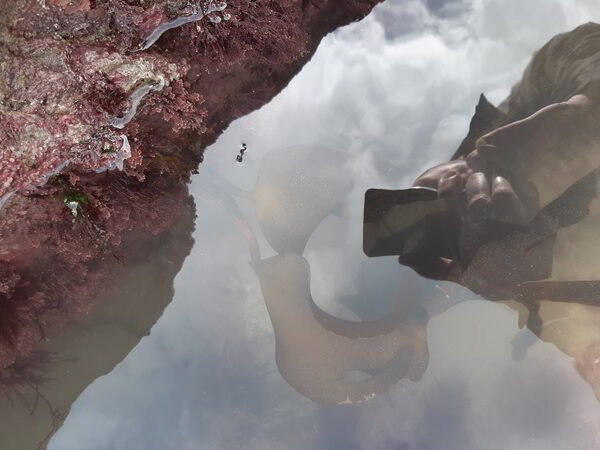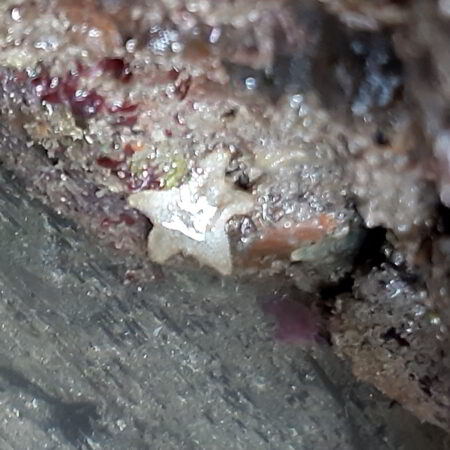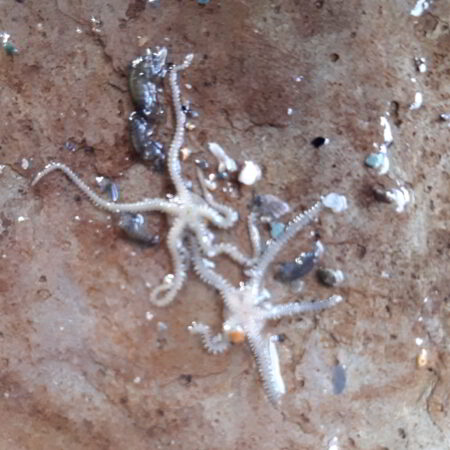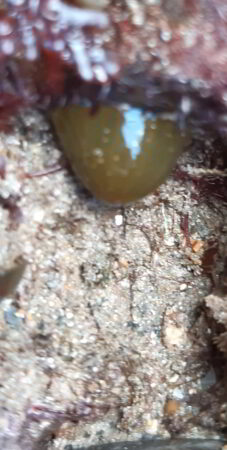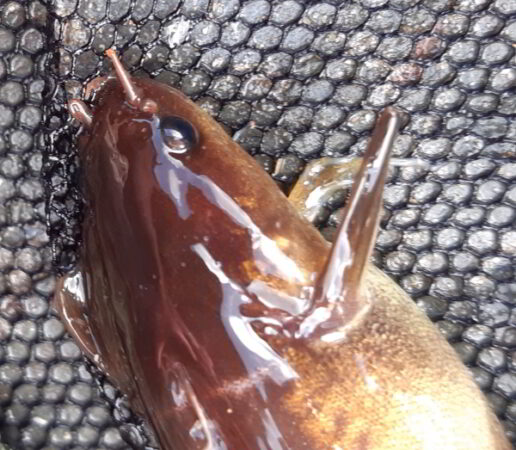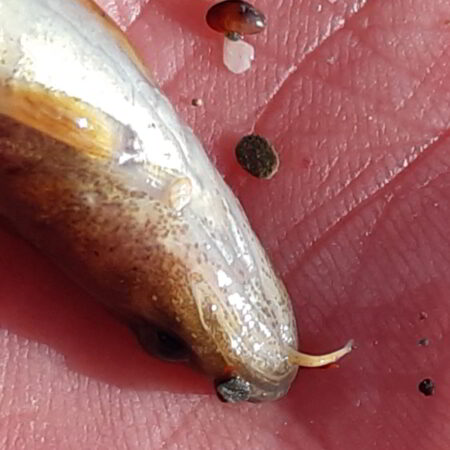 Crustacean Survey
We started finding crabs straight away so figured we would have a good day of finding crustaceans. In the end we found lots and lots of Montagu's crabs and a few of the other common crabs but none of the exotics of our first visit here. We are sure the spider crabs will come in again in a couple of months, and hopefully we can also see more variety in the other species. Perhaps we also see more when it is warmer and we don't feel like rushing along to keep warm.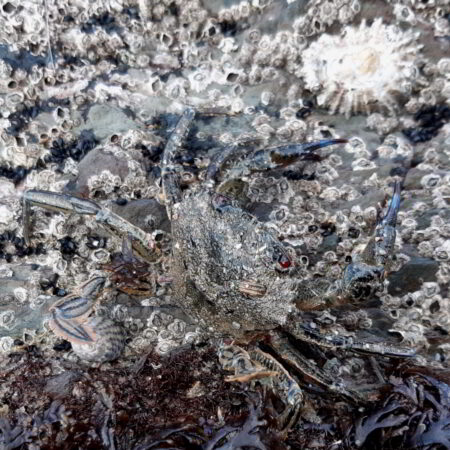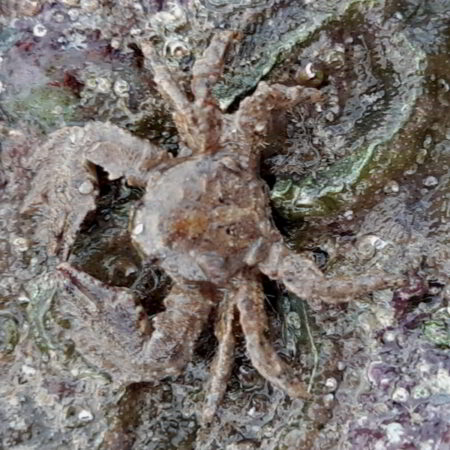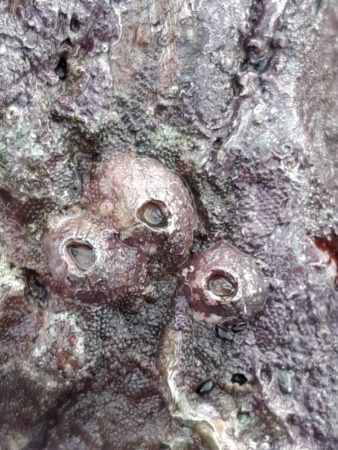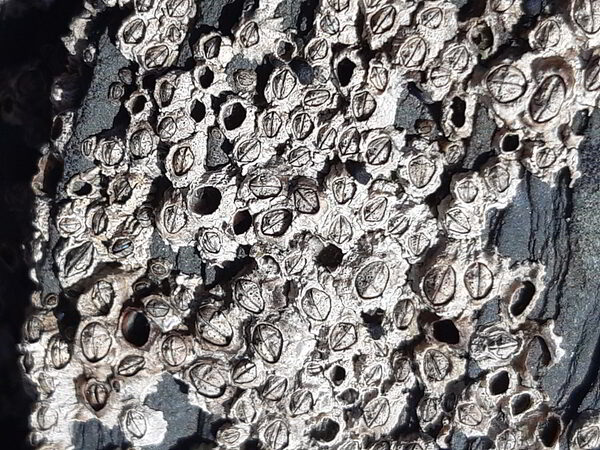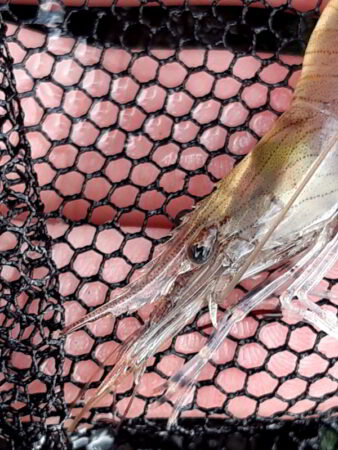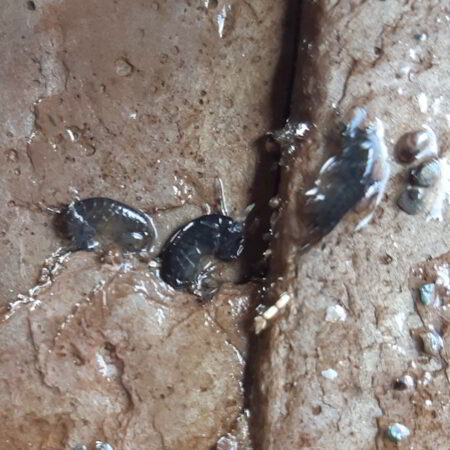 Big Seaweed Search
We intended to do something new today, a Big Seaweed Search. (A partnership between The Natural History Museum and the Marine Conservation Society.) We downloaded all of the instructions and took a printed copy along to make sure we started off correctly. The general idea being to choose a strip of shore and then record the various seaweeds found along it. This Citizen Science project aims to establish the spread of climate change indicators and invasive species.
We could have chosen many interesting strips across the reef but decided to complete our other surveys first and end with this one. That pretty much fixed the line for us, being the last gully that we searched right up to the base of the cliffs.