We decided on a day trip to the north coast and picked Bude because it also has the Sea Pool allowing us to practise snorkeling in safety. The highlight of the day turned out to be a Common Spider Crab, apparently a rare find for Bude.
Weather
The forecast for the day was good, and proved to be accurate. If anything it felt hotter than predicted.
| | Temperature (Celsius) | Wind |
| --- | --- | --- |
| 08:00 - 12:00 | 15° | 1 m/s from N |
| 12:00 - 18:00 | 19° | 3 m/s from SSW |
| 18:00 - 23:59 | 18° | 4 m/s from SW |
Tides
Before we left, Dad checked the tides and told me that these would be over 7m. That didn't mean very much until I saw how far the tide went out during the day. The people at the top of the beach could barely see the sea.
| | Time | Height |
| --- | --- | --- |
| Low tide | 01:34 | |
| High tide | 07:33 | 7.5m |
| Low tide | 13:50 | |
| High tide | 19:51 | 7.7m |
Snorkel practice
After getting confident with my full-face mask (it helped having a hair-cut) and using fins properly for the first time, we headed off in search of rock-pools.
Bude Rock-pool discoveries
We went beyond the sea wall and under the Pepper Pot to a reef with very clearly defined rock strata. These were very awkward for walking on and didn't have as many holes as the south coast did. The rocks were covered in large mussels and …
Honeycomb worms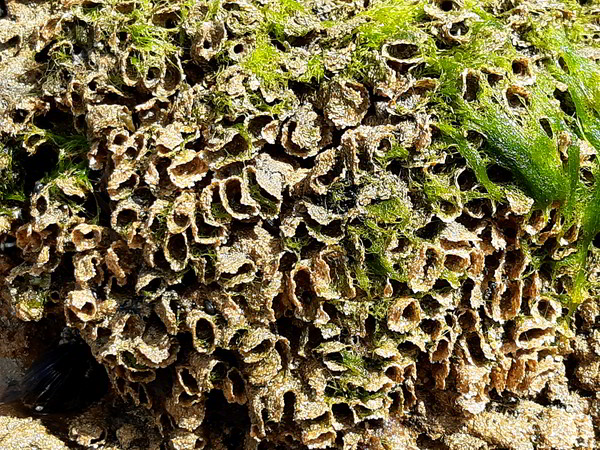 As soon as we got down to the reef, we saw these strange features on almost every rock. When we got home a quick search turned up this information to help identify them as Honeycomb worms.
Celtic Sea Slug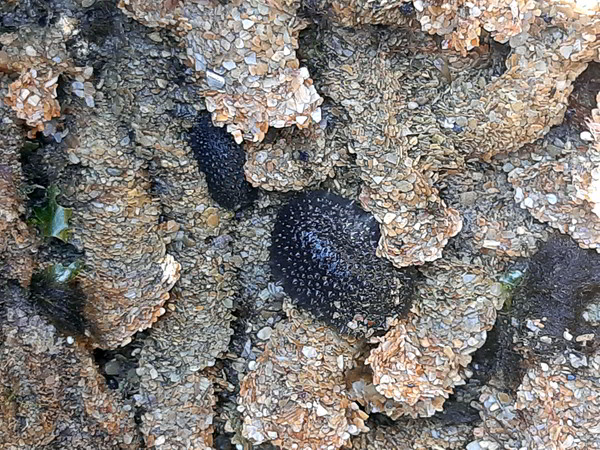 As we had just got out of a rock-pool, I saw these Celtic sea slugs clinging onto some honeycomb worms. At first I thought they were some type of anenome but when I touched it, it was soft and felt like a slug. Again, we did not identify these until we got home, although they are in my Seashore Collins Nature Guide.
Rock Goby
As we were walking back to our bags, Dad saw a rock goby in a rock-pool. This photo has been cropped as it was quite small in the original and it swam away when we tried to get closer.
Common Spider Crab
We found one dead spider crab and then two more empty shells so were fairly sure there should be live specimens around. It took a lot of fruitless searching before Dad managed to hook around in a hole under a large rock and pull out this spider carb. He thought there was another but lost that whilst making sure he caught this one.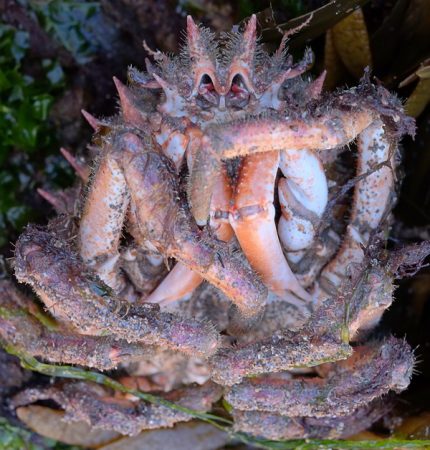 Here is a close up we took (+10 close-up lens), edited at home.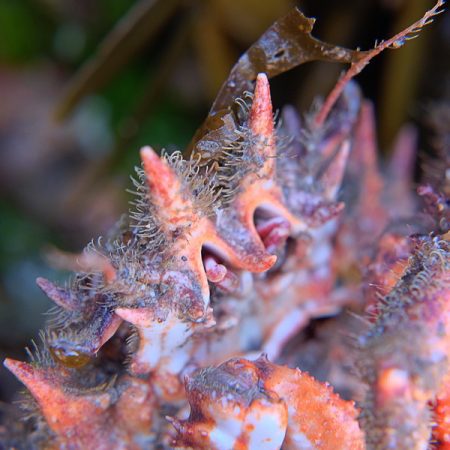 Generally, there was a lot less life on this north coast than we are used to seeing on the south coast. The harder rocks and the very large tides must make it difficult for some creatures to exists here, though some of those that do seem to thrive in large numbers.