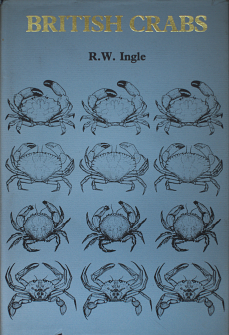 Author: R. W. Ingle
Published by: British Museum (Natural History), Oxford University Press, 1980
Pages: 222
ISBN: 0 19 858503 9
Usage
Apparently, this is the definitive Reference book for crabs found around the British Isles. That said, it is very technical book and I don't really understand much at this stage.
So far we have only used the book once. That was to try and identify what spider crabs we found at Ayrmer Cove. We were pretty sure these were different from the Common Spider Crabs Maja brachydactyla that we have seen before. It seems we should have taken better photos of the rostral horns to be sure of Hyas araneus but since these were covered with weed our photos are unclear on the important factor. Do they converge or diverge?
I will store it away safely until I am older and more familiar with the terms used.
Book review
This book has a long introduction which looks to define the subject and the author's approach. The bulk of the book is a systematic account, followed by plates (B&W photos).
Systematic account
The listing for each species includes:
the relevant Figures (annotated diagrams) and Plates
a lengthy Description
a maximum Carapace length
Bionomics (mode of life in their natural habitat)
Colour
Distribution using the map areasfrom the introduction
I counted 67 species. I will not list them all here.